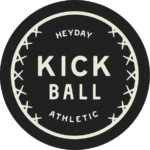 Were you the outdoor recess kickball champion? Prove it! The ultimate "feel like a kid again" game, kickball is one of our most popular sports at Heyday Athletic! Relive your playground glory days and get booting the big red ball around the ball yard!!
Upcoming KICKBALL Leagues NEWSLETTER
Get weekly updates on the latest & greatest from Heyday news, to tournaments, and more!
*Heyday Athletic will not share your information.