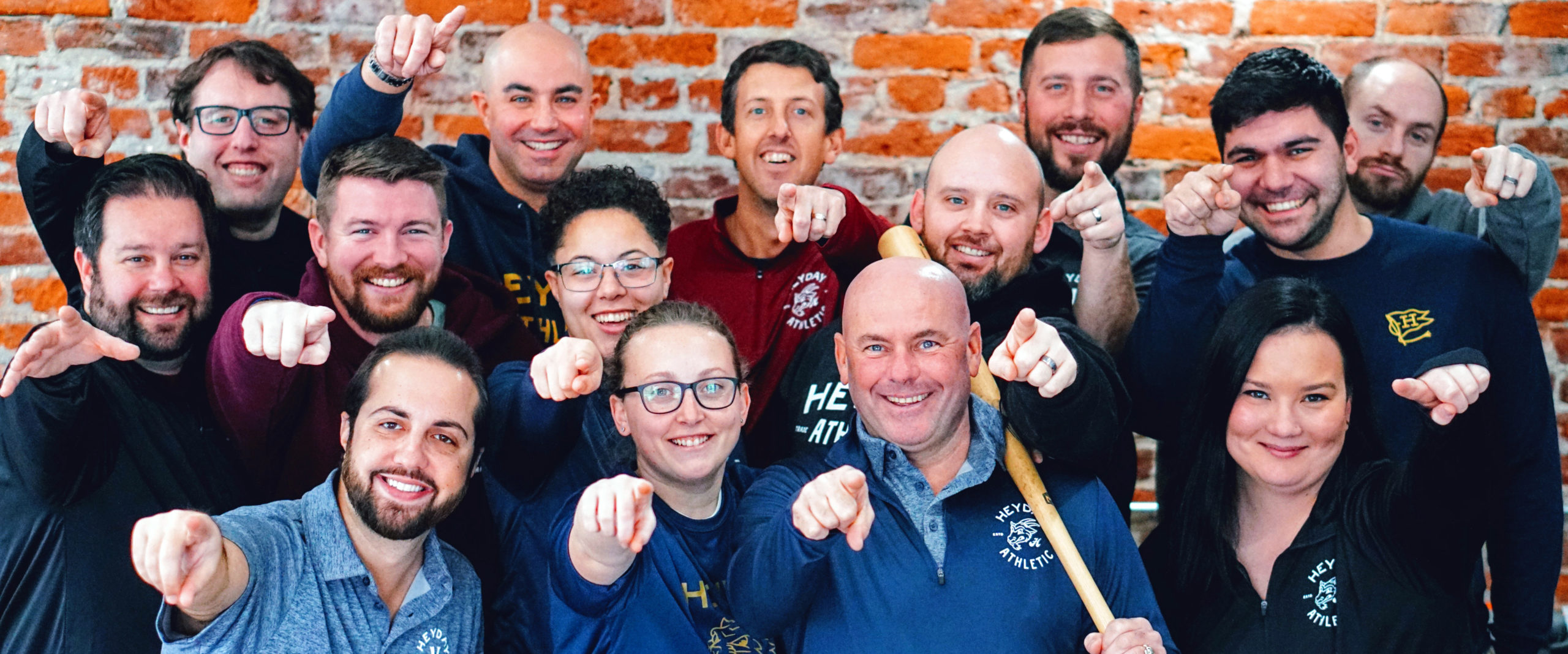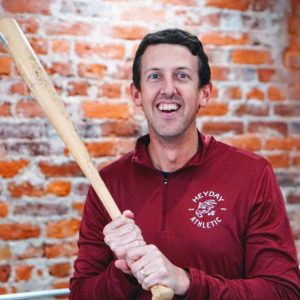 Dan, Partner
Yoga enthusiast // former Golf pro // #NovaNation
Dan originally interned with Philly Sport and Social before ultimately taking on a more ownership role. Now, he is currently one of the Heyday Athletic (formerly Philadelphia Sports Leagues) partners and oversees the daily operations of the business.  He lives locally and is married with 3 kids. If you have suggestions on how to improve our leagues please feel free to contact Dan at any time!
Interesting Facts:
What's your secret talent? "Juggling"
If he were a crayon, he'd be? "Red"
Favorite Family tradition? "Every night at dinner my kids, my wife, and I have to name our favorite part of the day"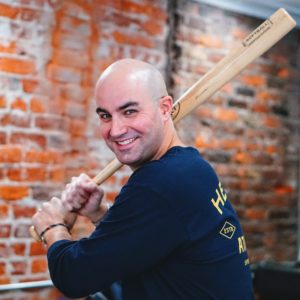 Jason, Partner
Basketball trick shot specialist // #BillsMafia
Jason has lived and breathed sports from a young age. Basketball and football are his favorite sports but he will never turn down a good game! He cofounded Philly Sports Network in 2005 after first moving to Philly. Former architect turned Heyday Athletic Partner, he's putting his creative juices to good use leading Heyday's marketing efforts. Jason is married to his college sweetheart and has two very active boys.
Interesting Facts:
What's his secret talent? "Folding Laundry"
What color Crayon would he be? "Green"
Truly passionate about: "Cooking and Basketball"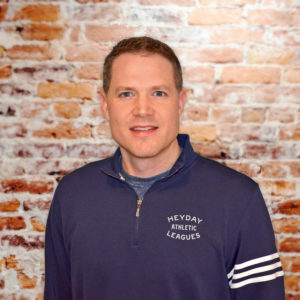 Ryan, Partner
Freak in the spreadsheets // Would rather be golfing
Ryan has had a lifelong passion for playing sports and from early childhood was the one organizing pickup games in the neighborhood. After moving to Philly in his adult life and still seeking an outlet for sports, he met colleague Jason Cooper (another Partner) and together they began organizing pick-up games for their architecture firm and eventually the broader building industry in Philly.
Interesting Facts:
What animal would he be: "Not like an ordinary house cat, a really smart winged cat"
Secret Talent: "Drawing/Painting"
Craziest thing he's ever done: "Cliff jumping Lake Nipissing, Canada"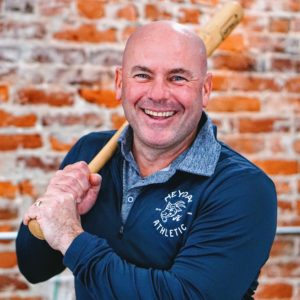 Tim, Partner
Self-proclaimed American Bald Eagle // Customer Service Savant
A sports industry veteran, Tim began his career with Philly Sport & Social as a part-time referee, umpire, and league manager in 1998 and was named Director in 2004. Prior to Philly Sport & Social, Tim worked in the sports business as a sports reporter, sports equipment sales rep, baseball umpire, and high school baseball coach. Tim, wife Kelly, and daughters Tessa & Grace live in his hometown of West Chester. Tim is a diehard Phillies Phan (favorite all-time Phillies players are Tug McGraw and Lenny Dykstra).
Interesting Facts:
What is he truly passionate about? "Being a Daddy"
Secret Talent: "I can pick things up with my toes pretty well"
Craziest thing he's ever done: "Snuck into Veteran's Stadium after hours with two of my brothers"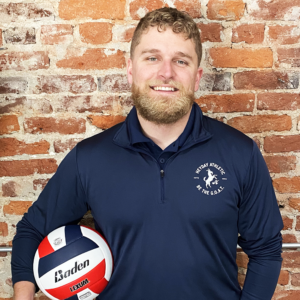 Brian, Chief Administrative Officer - Heyday Athletic
Skiing enthusiast // Can probably be found up the mountains // #FlyEaglesFly
Quality traits: Friendly. Keeps things light. Will help change your car tire.
Brian works alongside Eric helping organize and take care of things from an administration standpoint. He's a local Delco guy and looks forward to helping expand Heyday and continue to create fun experiences for everyone!
Interesting facts:
Favorite place: Bridger Bowl, Montana or Lake Harmony, Pennsylvania
Favorite family tradition: Weekends in the Poconos together
If he could be any crayon color: Green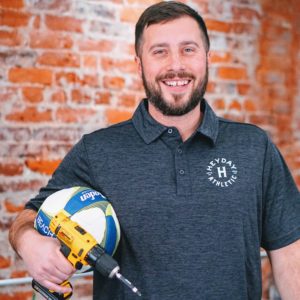 Eric, Managing Director - Heyday Athletic
Resident plant man // Home Brewer // not a very good bull rider
Quality Traits: calm, cool, collected. Good listener. Tries to be funny.
He's in charge, but doesn't force us all to remember it everyday. He leads by example, stays focused, gently handles ridiculous situations, and ensures everyone stays encouraged and feels supported. Basically, he's everyone's older brother.
Interesting Facts: 
If he were an animal? Red Tail Hawk (yes, we had to look that up too)
Favorite place on this earth? Glacier National Park
Craziest thing he's ever done? "Helped rescue a man from a wild bear attack." (we're still not sure if this is true)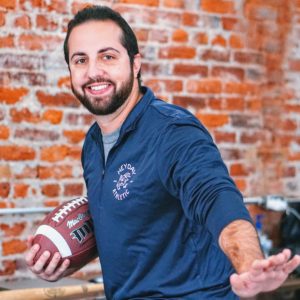 Brian, Partner / GM - Heyday Athletic New Jersey
Former Cheerleader // got a hair cut AFTER a photoshoot // posts a lot of cat photos
Quality Traits: Chill. Multitasker. Jersey Boy.
Brian heads up our NJ branch which used to be aptly named after his own initials - BAM Sports Leagues - because he's all about bringing the fun. He may seem quiet at first but this guy is not afraid to whip out a backflip or two on the dance floor.
Interesting Facts:
What is he truly passionate about? "Basketball and the NBA! I follow every team!"
Secret Talent? "Plays guitar"
Still on his bucket list? "Sky diving"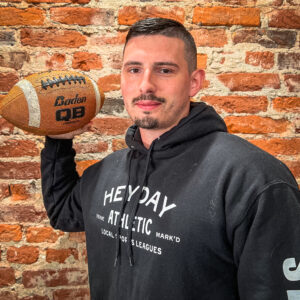 Troy, GM - Heyday Athletic Lehigh Valley

Fitness enthusiast // former pro beer pong player // energy drink connoisseur
Troy recently joined Heyday in December 2022 and is already bringing tremendous leadership and growth to our Lehigh Valley market.
Interesting Facts:
What is he truly passionate about? "I'm most passionate about spending family time with my children."
Craziest thing he's ever done? "I wore an opponents jersey into Lincoln Financial Field."
Favorite place on earth: Nashville, TN
Still on his bucket list? "Get a workout in with "The Rock" and a Titans Superbowl."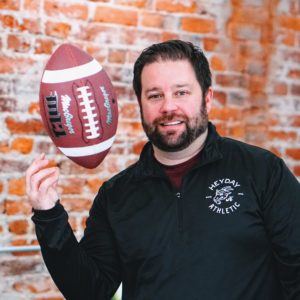 Pete, GM - Heyday Athletic Delaware
Coordinating Extraordinaire // Owner of the world's cutest dog // Lover of Rice Chex
Quality traits: Personable - like cool uncle vibes
Pete is all about organizing  and structuring the fun. By day, he is the main guy behind our Delaware leagues - everything from creating the schedule for each season  to coordinating details with facilities to building relationships with players, he's it. By night, he's probably the chillest bartender you ever did see.
Interesting Facts:
Favorite place in the entire world? Whistler
Craziest thing he's ever done? Cave Diving
Favorite family tradition? Easter Bacon and Sausage Bread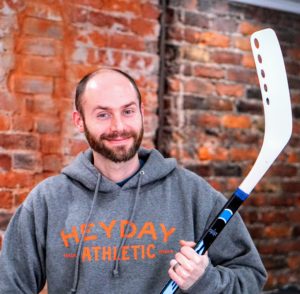 Garrett, Director of Administration
Former pro wrestler prospect // won't eat lunch with you // will send you gifs  // creator of creative names
Quality traits: Composed, witty. Encouraging hype man
Garrett probably sends about 100 emails a day (not an exaggeration). And creates leagues schedules and details.
Interesting Facts:
If he could be an animal? An eagle with the head of a bear
If he could be a crayon color? Tie-dye
First thing he ever checked off his bucket list? Hiked a Volcano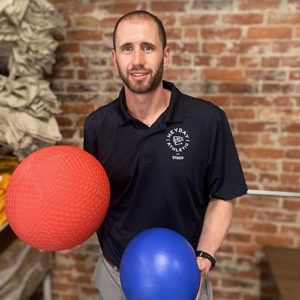 Shawn, League Manager & Head of Growth
Jack of all trades // President of Havertown Fathers Beer Club // Doesn't eat sweets
Quality traits: Quiet - but efficient
Interesting Facts:
Favorite place in the entire world? Newport, RI
Craziest thing he's ever done? Cliff jumping in Hawaii
Favorite family tradition? Christmas Eve parties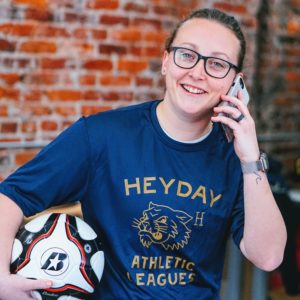 Victoria, Assistant Director of Administration
Nickname: Smallz // Soccer Star // carries things twice her size
Quality traits: tells it like it is, funny, task master
As part of the Admin team, Victoria gets **** done.  A lot of score reporting, a lot of answering league specific questions, a lot of schedule building. She's mighty.
Interesting Facts: 
If she could be an animal? " I would be a cougar... pun intended."
Direction of her toilet paper? "My toilet paper hangs over; it's illegal to hang it under."
Favorite place in the entire world? "A toss up between Disney and the Wells Fargo Center, tough call."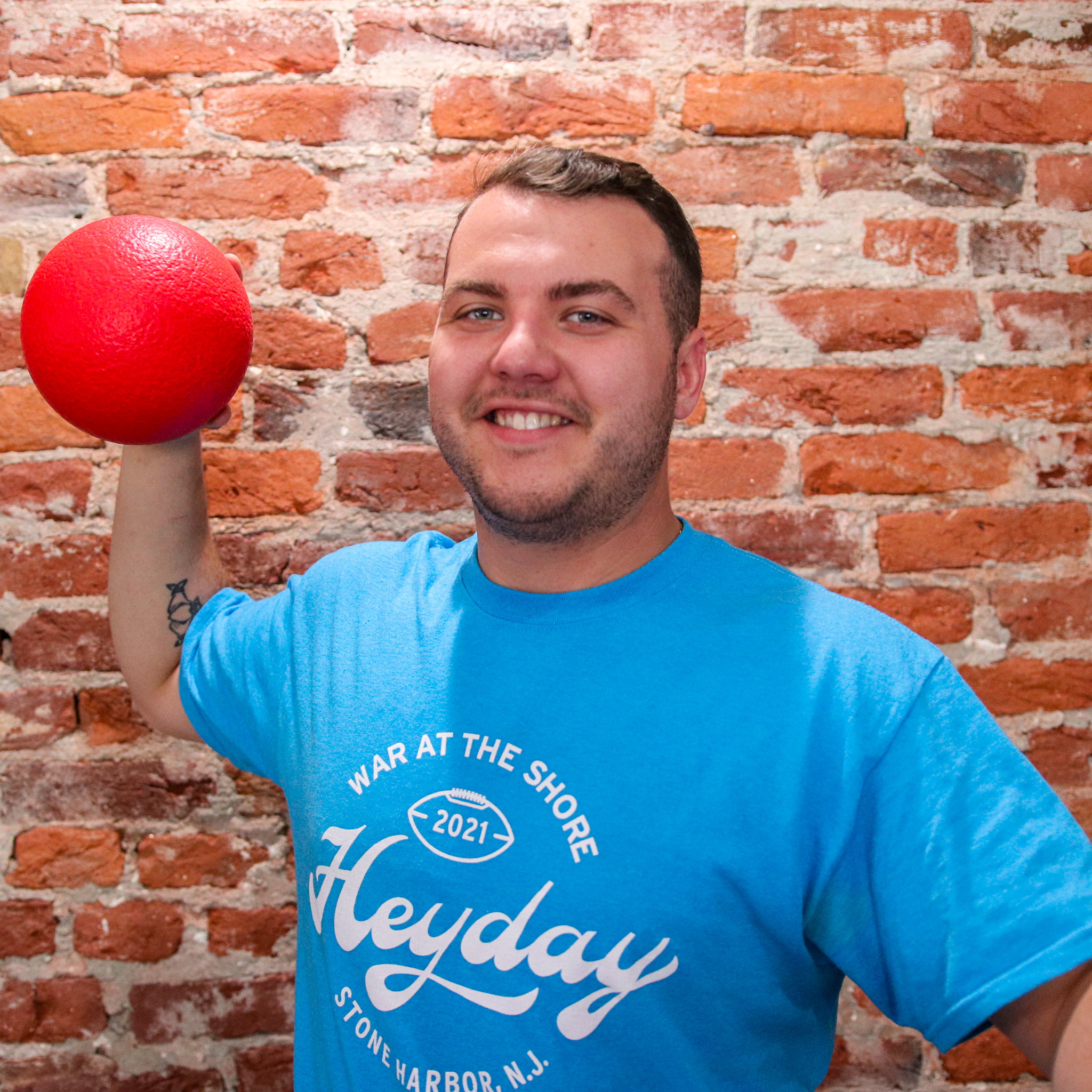 Ronan, Operations Manager
Nickname: Philly Sports Fan// Former D1 Athlete// Great Spotify DJ
Quality traits: tells it like it is, funny, task master
As the Operations Manager Ronan is in charge of shirts, shirts, and more shirts. But that's not all, along with Eric, they handle equipment inventory/maintenance/replacement for all Philadelphia and Suburb Leagues. During the day you may see Ronan as he drives into the city to our various locations taking t-shirts, equipment, and miscellaneous drop-offs in our Heyday Delivery Van.
Interesting Facts: 
Played rugby at Cardiff Arms Park, a professional stadium in Cardiff, Wales
Kissed the Blarney stone in Ireland
Big fan of Liverpool FC (YNWA) I.Y.K.Y.K.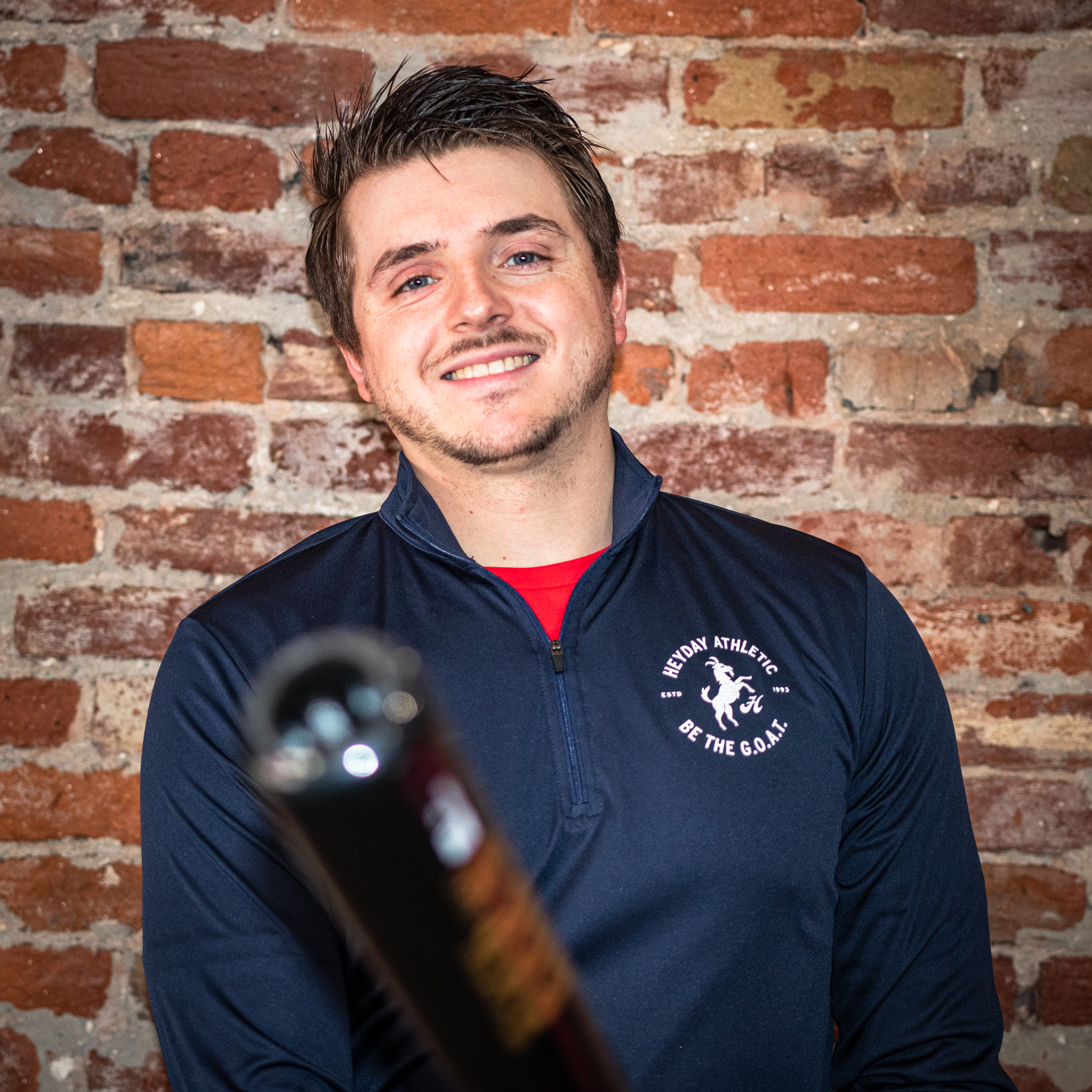 Matt, Marketing and Social Media Manager

Currently waiting for the Flyers to be relevant again // Manager of creating cool s**t
Nickname: Camera Guy
Quality traits: patient, calm, cool, and collected, fits in anywhere
Matt leads the direction and growth of the Heyday Athletic brand. If you see him at your league, say hi! He'll probably put you on our Instagram.
Interesting Facts: 
If he could be an animal? "A wolf, they're cool."
Direction of his toilet paper? "Always hang it over. Always. Hang. It. Over."
Favorite place in the entire world? "Anywhere with a nice beach and cold beer."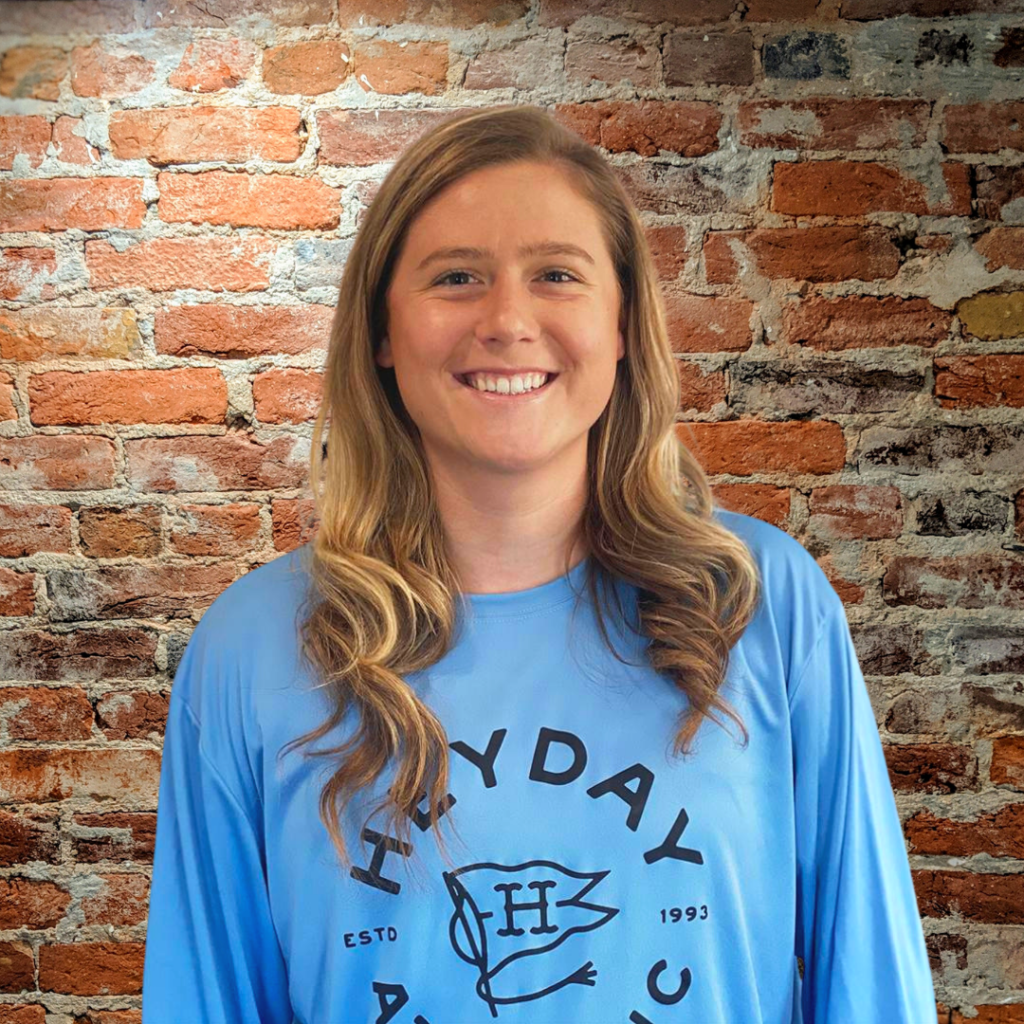 Lindsay, League Manager
Chicken parm connoisseur // former high school spirit officer // was the mascot for my college

Interesting Facts:
Consistently tell people I graduated from Harvard just to see their reaction.
Favorite place in the world? Ocean City New Jersey, but Costa Rica or Greece seem fun!
Craziest thing? Won 3 basketball State championships and barely even touched the court.
Secret talent? Can sound like a seagull
Still on her bucket list? Have brunch with Michael Jordan and Larry Bird
What she's truly passionate about? Movies/ good TV shows
Favorite color? Carolina blue.... not a fan of Duke, unless Grayson Allen is a part of the conversation
Favorite Ice cream? Moose Tracks... Don't even try to tell me there is a better one. (the period is for a dramatic exit)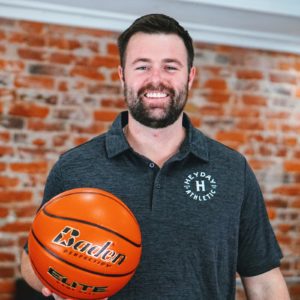 Jim, Basketball Assignor
Basketball Enthusiast // You can find him at the Jersey Shore // Spiders? He's out.
Quality Traits: Team player. Friendly. Most likely to bring donuts.
Jim oversees the assignments of referees for scheduled basketball games and ensures the refs have all they need before players start shooting hoops. He also puts on the referee hat from time to time, making sure the fun goes on!
Interesting Facts:
If you were a crayon, what color would you be? "Green because I'm Irish."
What is your favorite family tradition? "Summers at the beach."
If you could be an animal, which would you be? "Dog. Who doesn't love dogs?" GET HEYDAY NEWS!
Heyday Athletic will not share your information